Digital Memories Package
Are you looking to add some special memories to your party? What better way to display these precious memories using our Digital Memories Package! Imagine your guests appearing on television with live footage and candid photos appearing in a slideshow on our TV screens. Any Grand Entrance, Special Dance, Toast, or Speech will be displayed on the TV's with your guests having a front row seat! Capture the hearts of your guests by displaying a photo montage taking them through the guest of honor's life through photos and music!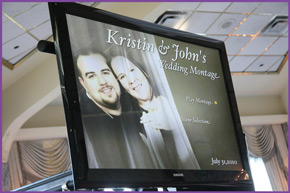 1 TV/Photo Technician
1 or 2 Plasma TV(s), DVD Player, and Laptop Computer
Photo Montage
We combine 20 photos of the bride's life, 20 photos of the groom's life and 20 photos of the bride and grooms life together.
Pictures are scanned and digitally enhanced.
A montage is created using the photos and 3 songs that the couple chooses.
The montage is displayed during dinner at the reception.
The bride and groom receive the montage at the end of the reception on 2 DVDs, along with a CD of all the scanned photos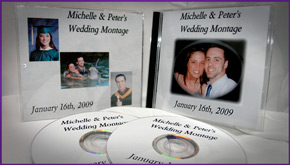 Live dance floor footage
Digital Photos
Over 150 Digital Photos are taken throughout the night on a professional quality hi-resolution camera
Photos are displayed throughout the night on the TV(s).
Photos are burned to a CD and given to the newlyweds at the end of the celebration.
Within 24-48 hours, your photos will be posted on our website for guests to download and leave comments. The gallery is password protected (we'll provide the password to your guests the night of the event) and stays up for 1 full year!