You're Planning an Event
Would you like to take your guests to a place where life's a little big stresses melt away? Where they can actually live IN the moment and embrace the best life has to offer?
That's What Celebrations Are For
And that is what we offer you: entertainment that allows your guests to escape life's travails for a day and truly live. Unlimited Entertainment offers you DJs with a wonderful gift. The gift to entertain in a way that is simply irresistible.
Your guests can't stop their toes from tapping. They can't stop their legs from dancing. With years of experience entertaining thousands of people, we have learned how to read every type of crowd. We know what to play, and when to play it, to keep your guests dancing all night long.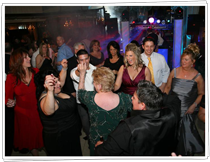 A chance to celebrate…. with you… and have fun. Unlimited Entertainment is passionate about your fun. That is why we are one of the most recognized and respected DJ companies in Long Island, New York.